This year one of my new years resolution was to say yes more and when Dan Spain, founder of Design Stuff approached me and asked if I wanted to do a talk at one of the events I jumped at the opportunity. Every Thursday near the end of the month 10 Feet tall holds host to the brilliant even that is 'Design Stuff' – a social event for creatives, designers and anyone else who likes to come along. At every event two designers present a talk on a topic of their choice and on the 26th February it was my turn to talk. When Dan initially asked me to do the talk I was a tiny bit hesitant about what topic I would chose to talk about, of all the different subject matters out there I decided in the to stick to something close to home and call my talk 'Not Another Design Graduate'. The talk description went something a little like this:
'In the ever changing, fast paced world of design how much are new graduates really valued? Is there a growing divide between the 'newbies' of the industry and the more established designers? A general view and outlook on being a recent graduate, how we are sometimes perceived and the benefits new blood brings to the design world, whilst giving some tips to upcoming graduates along the way.'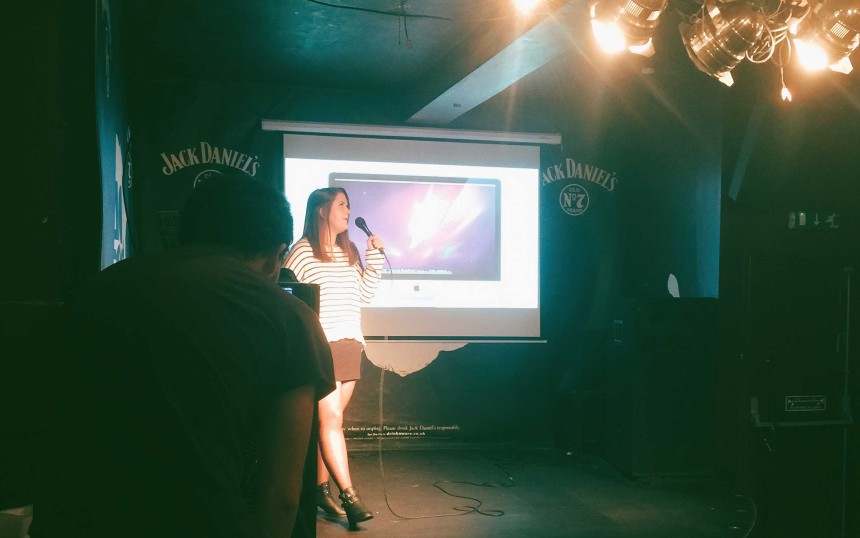 Having never really done any public speaking before I knew I had to be ultra prepared so straight away got cracking on talk prep and creating the actual slideshow that supported my talk. After many hours going through powerpoint and selecting the right material to put into it I had finally finished. The actual night came round really fast and before I knew it I was being 'miked up' and getting ready to go on the stage. After being introduced on the stage by Dan It was then my turn to give the talk. Oddly enough I wasn't nervous about it at all and was really looking forward to it. The talk was aimed at both industry and graduates, mixing it up with some sections dedicated specifically to each 'target group'. I started off giving a bit of a background information about myself going from one magical day in school when I was introduced to photoshop and the art of graphic design, right up to graduation. I then sectioned out the rest of the talk into sections of 5 – The job search, the intern debate, the interviews, getting the job and giving graduates a go – which I will elaborate on now…
Pt.1 The Job Search
This part of the talk included the ups and downs of the job hunt after University, the trials and tribulations of applying for jobs and trying to stand out of the crowd. It also included a picture of Nicolas Cage on one of the slides which is always a winner. I spoke about how important it is to stand out from the crowd when applying to jobs and catching the eye of potential employers, as being in a creative industry having a creative CV/Cover letter definitely bodes well when searching for jobs. Also another part of 'the job search' is of course the knockbacks of being possibly unsuccessful in some applications. The trick is to not give up and get disheartened – it's also a really good idea to apply for multiple jobs at once to make sure you are keeping the ball rolling on the job search front.
Pt. 2 The Intern Debate
Being quite a talked about subject in the media, I wanted to include the matter of whether we should pay interns in my talk. I personally believe that a long term internship should be paid if you have graduated, after all how are you able to support yourself on the pure 'experience' alone. I don't by any means dismiss unpaid internships at all, at the end of the day it's up to the individual as to whether you can sustain unpaid work, however I do feel that it devalues the work you do by not being paid, particularly in instances where the system is abused, and an intern is just an extra pair of hands, with no intention of growth or development.
Pt. 3 The Interviews
Now comes the interview slides — another vital step in the process of getting a job, giving some tips on how to conduct yourself in the interview to the all important hand shake shenanigans. When having an interview it is essential to be really prepared, without sounding too scripted. I found a killer question asked at interviews is 'so, tell me about yourself.' Its such a simple question but when you really think about it, how do you really reply to that? How much do they want to know? I spoke about whittling it down to a couple of key points, ranging from where you come from, what interests you in design, inspiration, where you see yourself in the industry etc. But the most important point of all is just to be yourself and be confident when you speak about yourself and your work.
Pt. 4 Getting the Job
This section was aimed at showing the differences between university and industry, discussing subjects like deadlines, clients and also the reality of not always getting to work on the more creative jobs. In many ways University doesn't prepare you for the industry world, personally I felt my university experience was all about creative exploration and skill building. We did have mini lessons about industry related topics but overall it wasn't until I actually started working in a design studio the real learning began. That is why I feel going out and getting work experience whilst still in Uni is vital. Not only do you get to make contacts with design agencies, you have a taster of the 'real design world' and in many cases learn more in a two week work experience placement than 3 years of university.
Pt. 5 Give Graduates a Go
The final part of my talk was aimed at industry folk and a little taster of how graduates could bring new life into their workspace. Yes, being a new graduate I am quite biased about the topic but I genuinely believe that there are many benefits from hiring a graduate. For instance we are moldable, we can be whatever you want us to be – although we may have some set ideas in our heads, compared to a middleweight/senior we may be easier to place into the studio, being more flexible in our ideology. Another benefit of hiring a graduate is that coming straight fresh from Uni means we are hot on our heels on the latest design trends, the latest software and even the latest methodology in design. A final keyword I picked as a positive for hiring a graduate is that we are eager, still eager to learn and strive to be the best we can and prove ourselves in the world of design. I also reminded industry that they were in our shoes once and that if it wasn't for that one person taking a chance on them, they wouldn't be where you are now.
How I felt it went
The talk lasted for about twenty minutes or so but felt a lot shorter, it's so weird being up on stage with all these faces looking at you – time definitely felt like it had speed up! I am slightly kicking myself a little bit for forgetting some points I was going to say but I guess it's easily done, especially as I didn't really use notes to read off from as I wanted it to flow more naturally. That is definitely something I would work on more next time however – but overall I was pleased with how it went and had some lovely tweets after the talk.
If you haven't got chance to go to a Design Stuff event yet, I highly recommend you do! Keep an eye out on the Design Stuff website or follow them on twitter @designstuffCDF – It's such a relaxed event and a really great place to meet new like minded people. Plus, who doesn't like mixing cocktails with design talks?
After I did the talk, I found two really insightful and relevant articles, which both cover some of the things that inspired my talk, the first is an article titled A letter to a graduate, by Cennydd Bowles. The second is an interview with Lauren Currie from Digital Arts that discusses the gap between what design education teaches, compared to the all important need to knows.