Dismal: causing a mood of gloom or depression. Dismaland: the bemusement park aimed to fulfil this feeling.
It's been 6 whole years since the highly elusive Banksy has put on a spectacle for the public, after the success that was the exhibition in Bristol Museum 2009, he is back with the acclaimed 'Dismaland'. A collaborative exhibition with multiple international artists, the event sees a sea of dark humour mixed with sobering themes on the state of the world primarily politically and socially, all contained in the old Tropicana Pleasure Beach site in Weston Super Mare. Open for a limited time of 5 weeks, the park is said to be the 'UK's most disappointing new visitor attraction'. I just had to go.
Purchasing tickets beforehand was near impossible with such a huge demand of people wanting to get a taste of Dismaland – I knew I was going to have to travel down to Weston Super Mare on a bit of a whim hoping I would be able to get tickets on the door. Getting up at 6:30am on a Sunday Morning seemed almost illegal but before I knew it I was on the M4 travelling across the Severn Bridge and down into Somerset.
After parking up and making my way down to the seafront I saw in the distance a big concrete building with 'Dismaland' written in gothic lettering. It certainly lived up to it's name from the exterior. However with the bright blue skies and the sun in the sky, I couldn't help thinking should I have picked a more miserable day to go to get the full experience?
As expected the 'ticketless people' queue was already 100+ people long and with the ticket office not opening until 11am, I already knew a 3 hour wait was afoot. As time went on and the queue grew longer and longer the people with pre booked tickets were allowed in. Then what I thought would be my turn to go in turned into a further 4 hour wait, eventually entering the park around 3pm. This, however, didn't put me off at all and in fact being in the queue surrounded by people from all over the place added to the excitement and anticipation of crossing the park gates.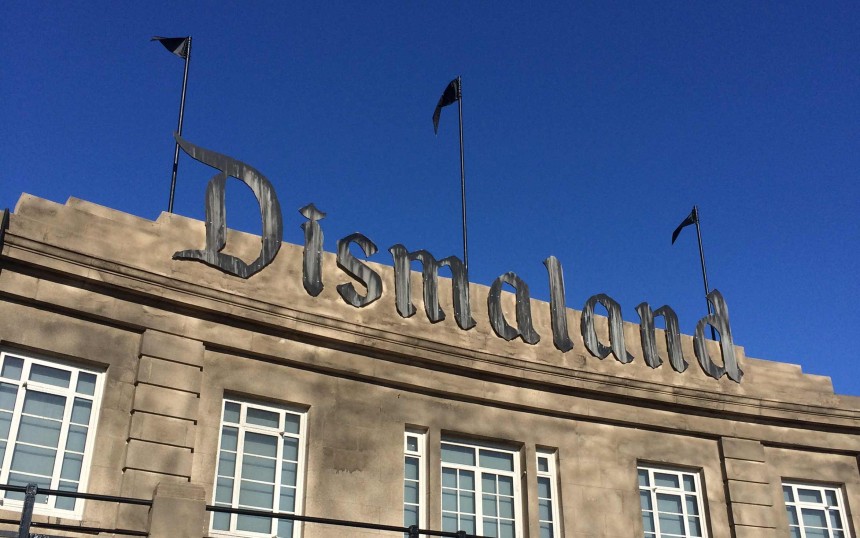 On first entrance to the park I was instantly told off by a member of staff for smiling, this was another quirk brilliantly done to enhance the 'Dismaland' experience. I then couldn't help noticing the array of staff 'moping' around the park with unamusement written all over their faces. Perhaps my 'favourite' trick by one of the members of staff was the one in charge of the 'Mini Gulf' area – lying down in the middle of the course making life that little bit more dismal and difficult for those participating in a round of golf.
It took me a good 2 hours to look around the whole park but I can assure you however long you spend there you will constantly discover new things. The park was a visual masterpiece and taking it all in during the allotted time was a bit of a challenge. Around every corner there was something engaging, exciting and in some (most) instances downright bizarre. A personal favourite part of the exhibition would have to be the room where a dummy grim reaper rides around on a dodgem car whilst "Staying Alive" is blasting in the background with an array of disco lights reflecting around the room. This dark humour is carried on all the way throughout the park, a humour notoriously associated in the art world with Banksy.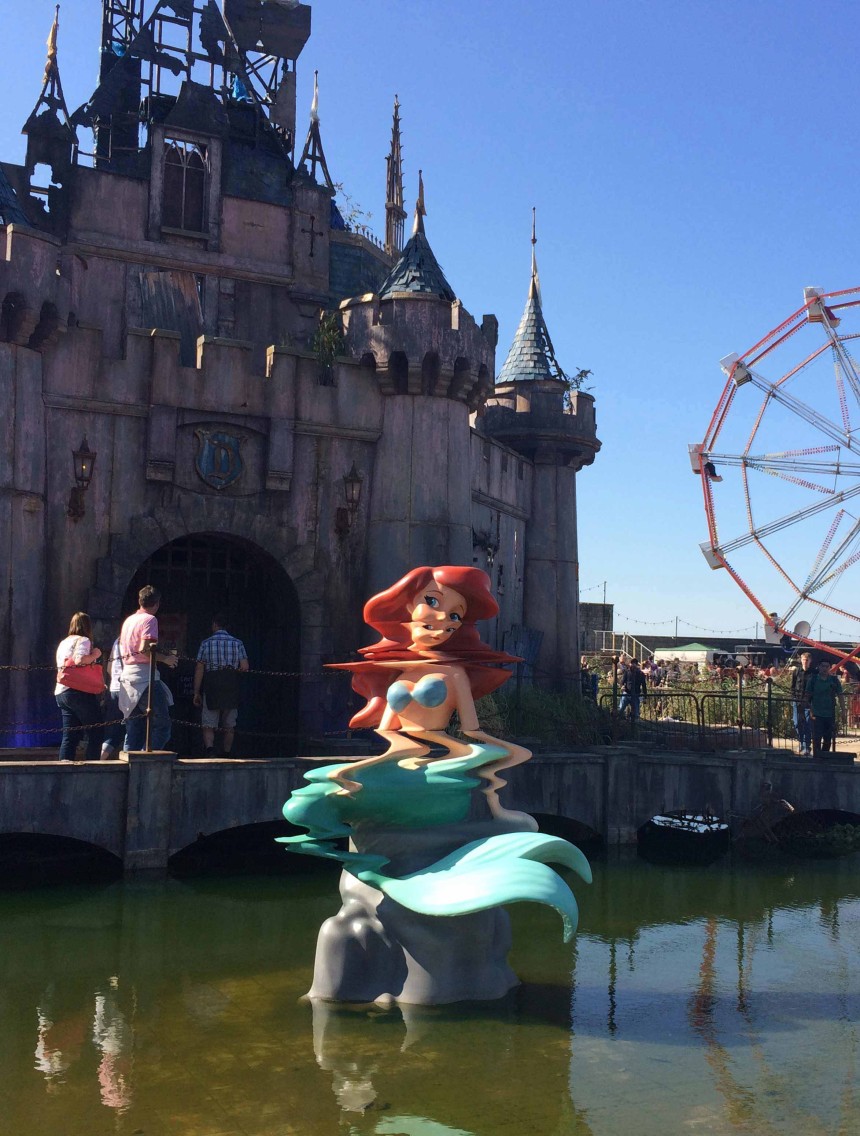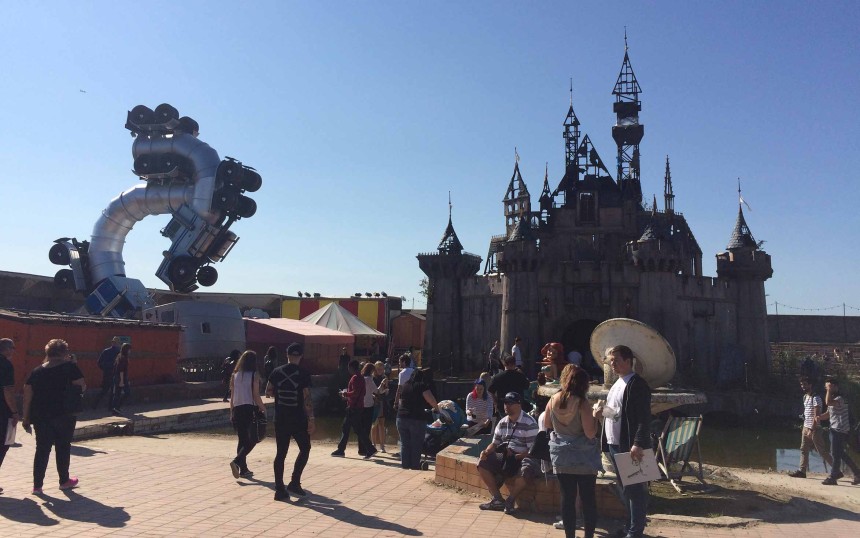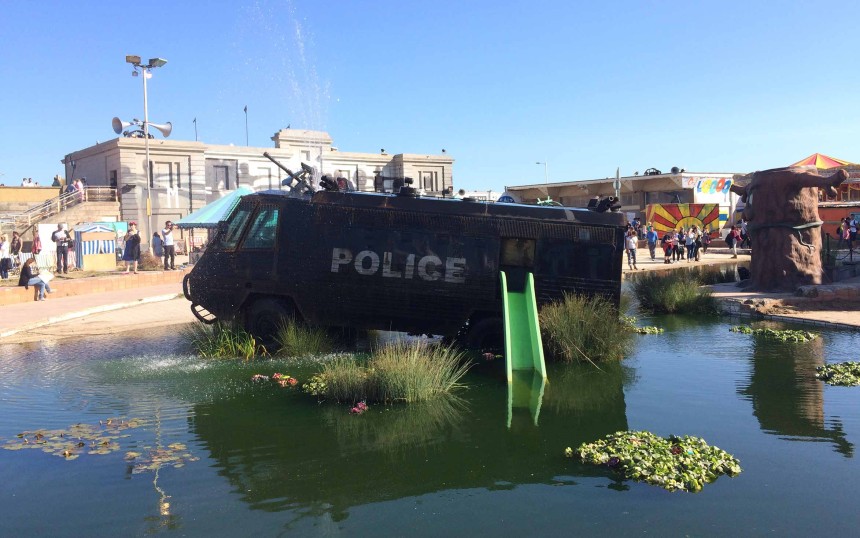 Not all exhibits were so tongue-in-cheek and certain sections of the park were perhaps intentionally made to include more sobering themes than others. The bus of 'Cruel Designs', curated by Gavin Grindon, was an in particular piece that stood in my mind. The bus museum/exhibition was filled with 'things that were made to hurt you', designs enforcing social control, for instance anti-homeless spikes, anti-sitting benches and CCTV cameras. It was incredibly thought provoking and left you with a slightly unnerving feeling. Further readings of this topic can be found at Gavin Grindon's website here.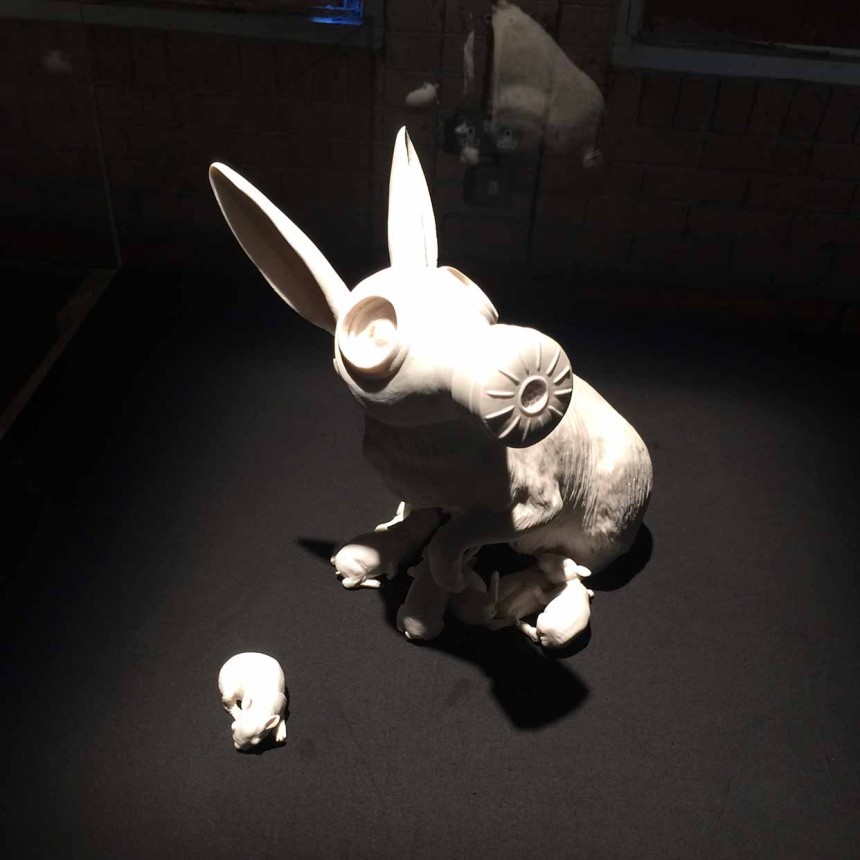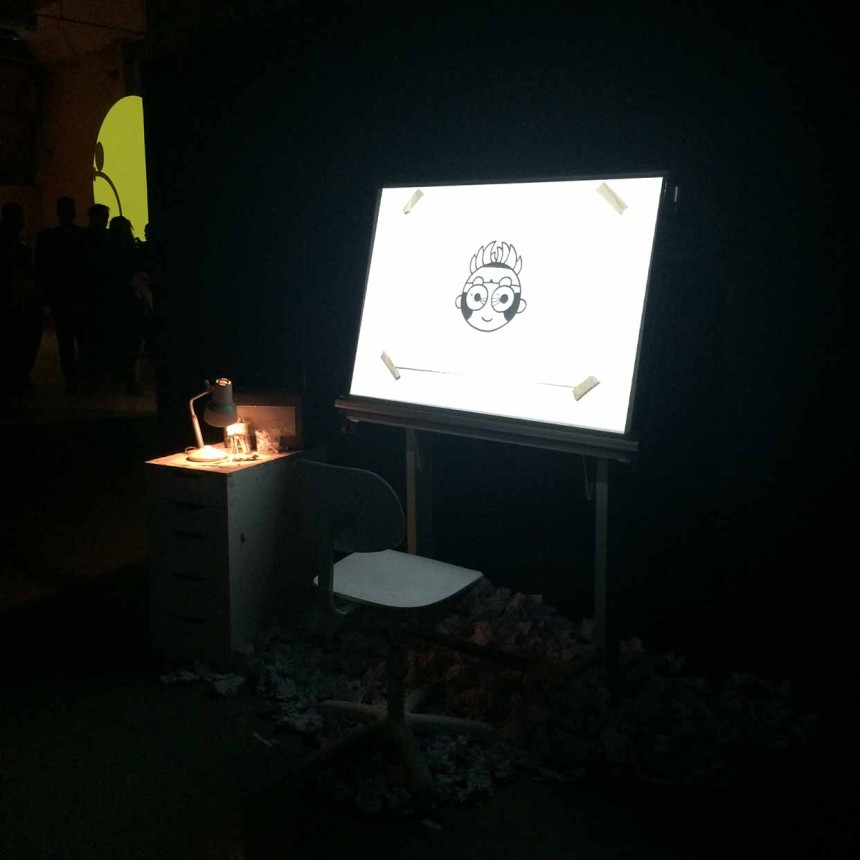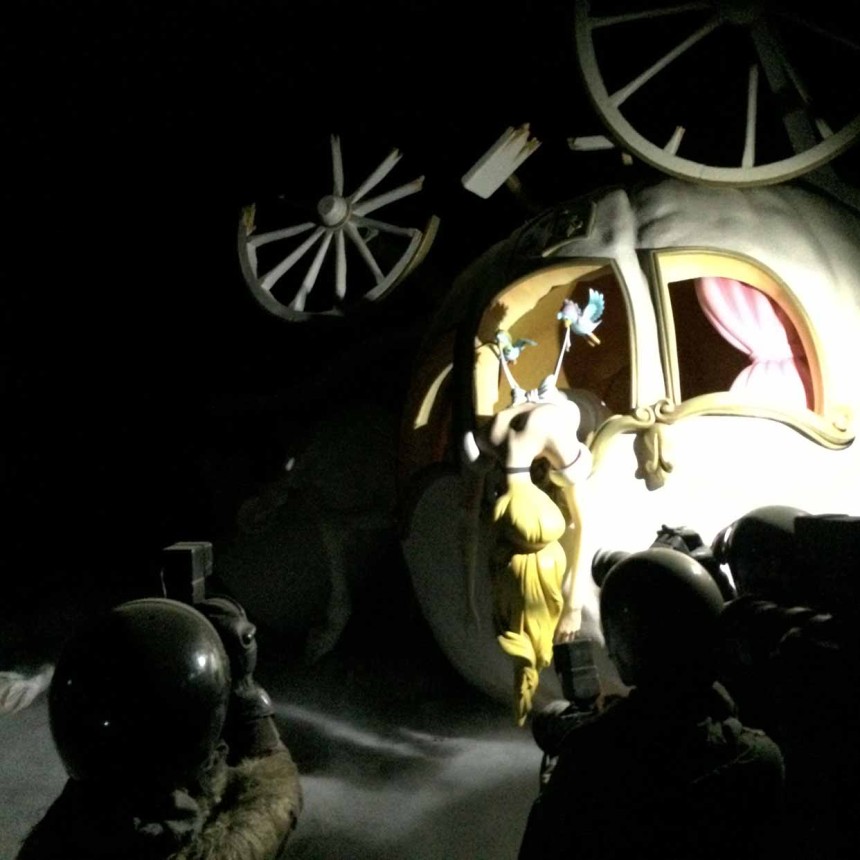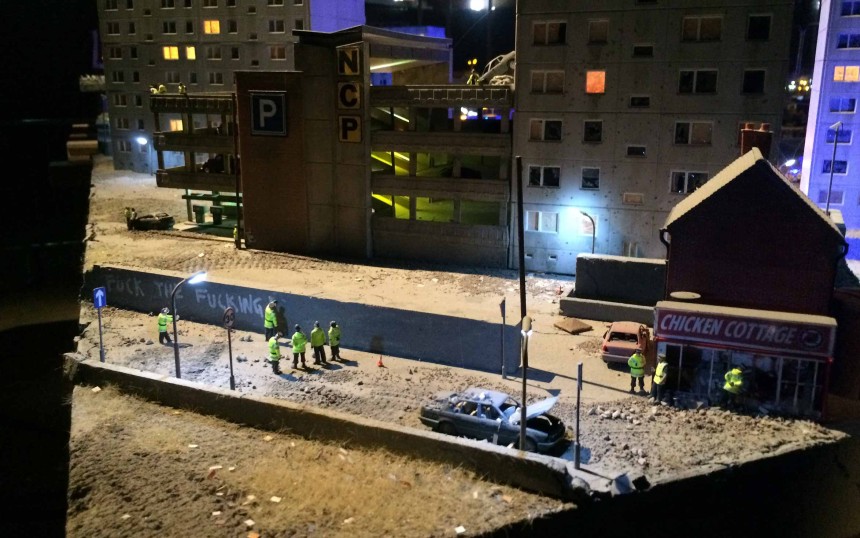 Overall the 6 hour queue to get in, the slight sunstroke from being out in the unexpectedly hot sun all day and the traffic heavy journey back down the M5/4 to get home was 100% worth it. I would do it all again in an instant! It was really an unforgettable experience and i'll admit whilst some themes and ideas had already been explored many times before, the idea of creating a whole park designed to bring you to reality as opposed to take you away from it is definitely a concept explored well.
Banksy, you've done it again.
(Oh and yes, naturally you had to exit through the gift shop to leave the park).
Dismaland is open until 27th September 2015.